Lanzarote, the Canary Islands, Spain
A volcanic island that's like a trip inside the darkest recesses of Timothy Leary's mind
While the Canary Islands are practically hugging the lower west coast of Morocco, they're Spain's by title. In Tenerife, you'll find one of the best black-sand beaches in the world (Playa Jardín), but your new favorite among the archipelago is Lanzarote, where you can surf, hike, or enjoy fantastic beaches. All standard stuff, sure, until you realize the biggest draw is simply walking about the black-and-red ash of the martian moonscape. The colors alone will have you feeling nice and high: The government-mandated universal color of buildings is white-wash with a Kelly green trim, which makes a catchy contrast with the surrounding land.
Lord Howe Island, Australia
The self-proclaimed cleanest place in the world is a stargazers delight
Some 500 miles off the coast of Sydney, Lord Howe Island is one of those truly middle-of-nowhere places (seriously, Google Maps this thing) where, on a clear night, you'll see more stars than you ever have in your life. But that's just a bonus. The real draw of the 6.2-mile island is the myriad plant and animal species — some once considered extinct — that await you after a half-day hike up the island's tallest peak, Mount Gower. Locals are happy to guide you up the mountain, so long as you book in advance. Many of the 382 residents descended from the first settlers, a motley crew of English and American men who set up camp shortly after the island was first spotted in 1788. Crash the weekly fish fry night at the lawn bowling club and you might hear tales of family rivalries and alliances formed and broken over the years.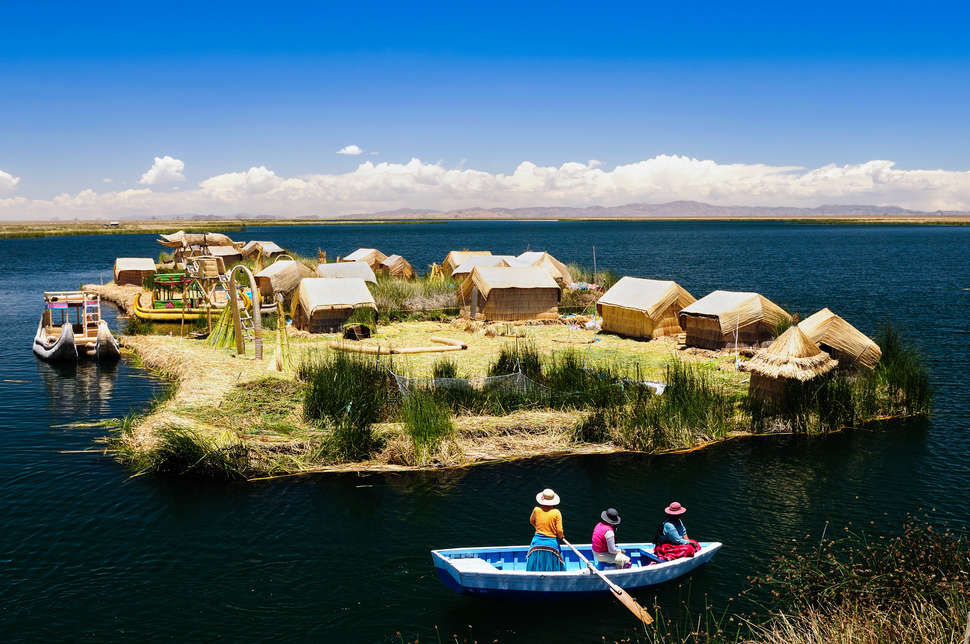 The Islands of the Uros, Lake Titicaca, Peru/Bolivia
If you build an archipelago, they will come
Lake Titicaca, which lies on the border between Peru and Bolivia, has a lot going on. Not only does it have bragging rights of being the highest navigable body of water in the world and South America's largest lake, it's also where the ancient Incans believed was the center and origin of the universe. Fast forward half a millenia and this lake with the snicker-inducing name is now center of the Uros people, who live on the surface of Titicaca on floating islands they made themselves.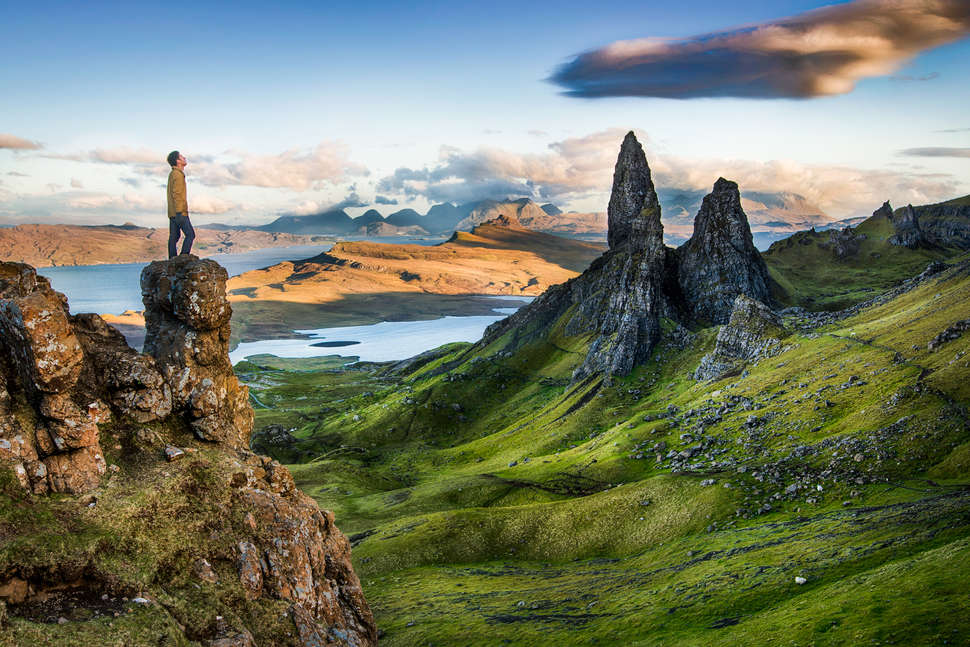 Isle of Skye, Scotland
Fairy pools, towering mountains, and country pubs await
Skye is where mountains disappear in mist in a blink. Oystercatchers peck between rocks and golden eagles catch thermals overhead. The main town of Portree is all pastel-colored cottages by the sea; the few other villages are stuffed with the whitewashed crofts of dreams. Connected to the rest of Scotland by a (controversial) bridge since '95, on this island there are fairy glens to wander between and fairy pools to jump into. Skye is stupid-stunning.
Rising more than 3,000 feet above the sea, the Cuillin mountains are where hardened climbers get their kicks. The rest of us head to Glen Sligachan valley for an afternoon's exploring, and probably a dousing of rain (Skye is wet, and therefore green) before heading into Seumas' country pub to choose between some 400 Scottish malts.
Borneo, Malaysia
Caves, mountains, animals like nowhere else in the world
Adventure travelers will be on sensory overload once they touch down in Borneo. Home to Malaysia's five highest mountains and two longest rivers, there's no shortage of hiking, biking, rafting, and anything else you can do on mountains and in rivers. The island is shared by three countries (Malaysia and Brunei in the north and Indonesia in the south). Malaysia's segment is carved into two states: Sabah and Sarawak. Just a two-hour flight from Kuala Lumpur is Sabah's capital, Kota Kinabalu, as well as Sarawak's capital, Kuching.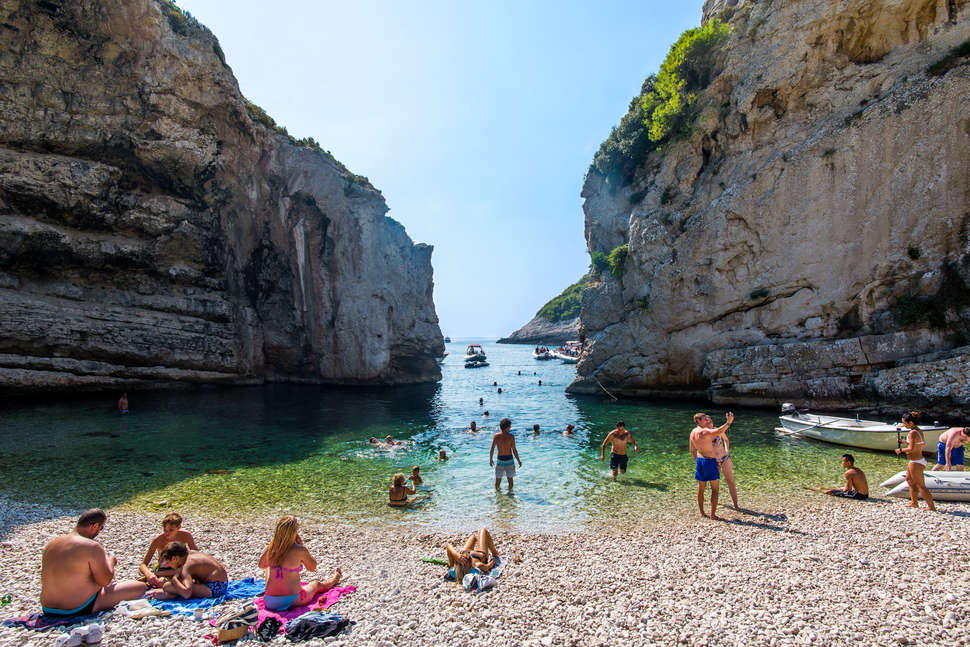 Vis, Croatia
Avoid the crowds on Hvar and head to this Adriatic gem instead
Even though Croatia has been increasingly overrun by vitamin D-deprived jet-setters during the last decade, Vis, just 20 miles off the mainland, has remained an unspoiled idyll, one of Europe's best islands that tourists never notice. It's tiny, with fewer than 4,000 residents — but the community is warm and welcoming, and there's not a tourist trap in site. Fly into Split and hop a two-hour ferry ride from the city's port that will drop you in Vis' spellbinding seaside downtown that dates back 2,400 years. (You can book a private charter that will pick you up across the street from the airport if you're feeling especially glam.) There are beautiful beaches galore, of course, and you should absolutely splurge and charter a boat for the day, but the interior of the island is something out of a Mediterranean postcard, all ancient taverns and olive groves and vineyards growing some of the country's exceptional white wine varietals. — Ted Brown
Iceland
Go on and chase that midnight sun all along the coast.
The depression jokes that Icelanders make in the winter don't make nearly as much sense in the summertime. From May to August, Iceland gets at least some midnight sunlight, and steadily up to 21 hours of the-sun-is-up daylight. Every. Damn. Day. Around summer solstice, June 21, it's pretty likely to even get a full 24-hour shine on. Skies flare up in ethereal washes of pink and gold. When posed against monumental waterfalls and Martian landscapes, it means bearing witness to nature's finest art.
Hop in a camper van for the most awesome road trip ever, rambling between Iceland's Ring Road attractions or eschewing the beaten track for outdoor curios such as Látrabjarg, a cliff walk populated during summer with nesting puffins, or Silfra, a diver's wet dream. The waters of this natural rift have been purified by tectonic rock, so when paired with evening rays, you're guaranteed uncanny underwater visibility. Laze in natural pools loaded with healthy sulfur, scout the high seas for humpbacks and killer whales, and cool off thousands of feet above sea level on an icecap. Stay up late and don't forget to pack sunscreen. — Barbara Woolsey
• • •