Locker Room Trysts Trouble Health Clubs; What Are They Doing About It?
A FEW months ago Timothy Young, a comedian and puppeteer, headed to the steam room of a Y.M.C.A. in Brooklyn to relax after working out. When he opened the door, he saw two men kissing and fondling each other. "Go ahead, I don't care," Mr. Young, 31, told them.
But he did leave the room.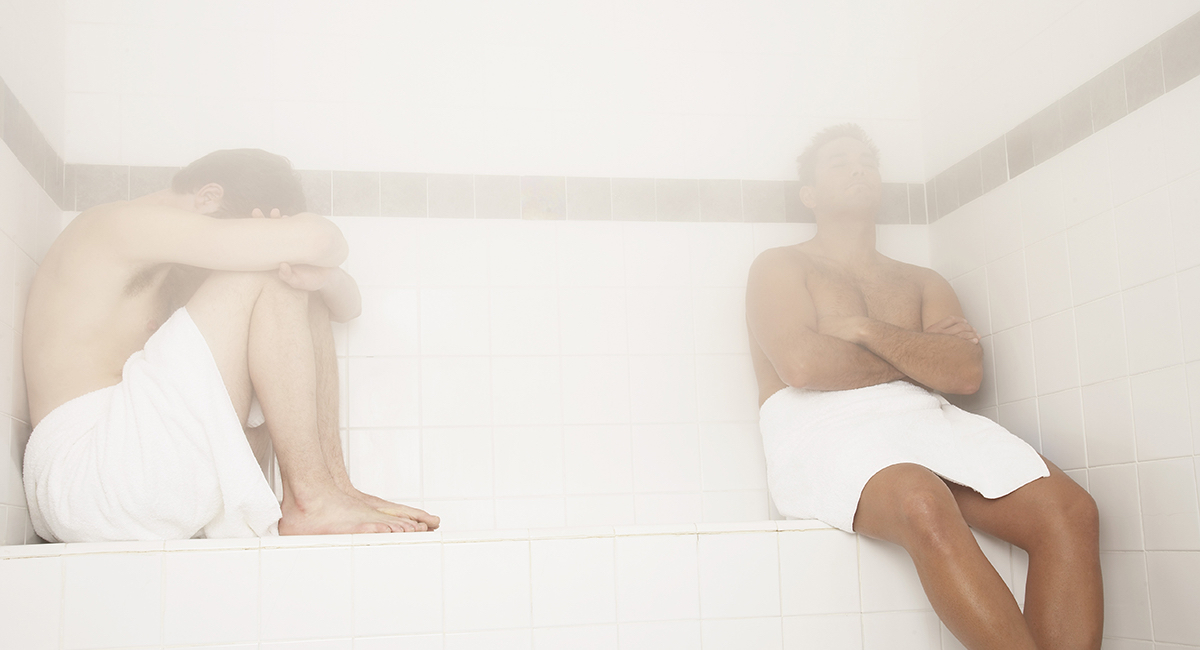 Not all gymgoers are blasé when they stumble upon locker-room canoodling. "They're infringing on my right to work out at the gym without having to deal with that nonsense," said Cyd Zeigler Jr., a member of David Barton Gym and a co-founder of Outsports.com, an online magazine for gay sports fans and athletes. "I don't get the full benefit of my membership."
Men cruising men in the locker room is a near-century old pursuit. And the steam rooms, showers and saunas at health clubs continue to be meeting places for men seeking anonymous sexual activity, much as bathhouses in New York and other cities were before fear of AIDS prompted a widespread shutdown in the 1980's.
"It has always been there, and it has its ups and downs," Charles Kaiser, the author of the 1997 book "The Gay Metropolis," said of sexual behavior in locker rooms. "People complain, and they shut things down, and then it creeps back up again."
Just how much sex occurs in gym locker rooms — and whether it's more prevalent today than in the past — is difficult to gauge. Gyms are reluctant to say how many complaints they get from members, and the New York City Health Department, which has the authority to close the saunas and steam rooms of health clubs that fail to crack down on sexual activity, rarely hears from gymgoers.
Of course most of those who engage in furtive sexual behavior are savvy about not getting caught.
Gyms are everywhere: the number nationwide has more than doubled in the past decade to about 26,000, according to the International Health, Racquet & Sportsclub Association, a trade group. And at certain times of day, their showers and steam rooms are not crowded. A closed door — or the fog of steam — make it easy for men engaging in sexual activity to elude detection.
"No one can really see anything," said Jonathan, a 43-year-old sales representative from Manhattan who gave only his first name. He said he regularly goes to an uptown New York Sports Club for "work and reward": a cardio workout, some weight lifting, then sexual activity in the sauna or steam room.
To some members, such behavior is offensive and detracts from their enjoyment of the gym.
Last month, Carlos Sosa, 34, a restaurant manager in Manhattan, filed a $25,000 lawsuit against David Barton Gym on West 23rd Street. (The gym has officially denied any wrongdoing.) Four months into his membership he complained about sexual behavior in the locker room, he said, but the establishment refused to let him out of his contract and refund his $950 annual fee.
Mr. Sosa, who accuses the gym of allowing sexual activity to flourish in the men's locker room, said that on one afternoon in mid-November 2004 he went to the shower and saw that two men in adjacent showers had slid their hands through a gap between their stalls. "One was masturbating the other," Mr. Sosa said.
Tom Shanahan, a lawyer for David Barton Gym said: "What he's alleging happens everywhere. It's how you deal with it, and we try and deal with it."
MOST clubs, including David Barton, Equinox, and the Y.M.C.A., have zero-tolerance policies. "If you're caught," Mr. Shanahan said, "then you're out."
Equinox revoked memberships a "handful" of times in the past year, according to Scott Rosen, the chief operating officer. At Reebok Sports Club/NY, Brad Zeifman, the club's spokesman, said that "less than a handful" of memberships have been revoked in the past year because of "inappropriate behavior," which includes using profanity and getting into arguments as well as improprieties in the locker room and spa areas.
Gyms in New York, which are required by law to enforce the state sanitary code against sex on their premises, often post signs notifying exercisers that "inappropriate behavior" is not permitted. While few, if any, establishments have employees patrol the locker rooms to police sexual activity, most have staff members check in from time to time so they can, among other things, alert management if they see forbidden behavior.
But despite these efforts, men continue to arrange rendezvous at gyms with willing partners, often via the Internet.
"Looking for a little relief during your day? Meet me at Lunch at the NYSC Sauna and lets have some fun," a June 8 personal ad on craigslist.com said. Other postings are more explicit: "We were alone in the steam room Monday night. We fooled around a bit and you said you were 26 as well. Would love to meet up again." Some of the postings — like "married looking for discrete hot sex at my gym" — suggest that men who identify themselves as gay are not the only ones who participate.
If people who stumble upon a couple in flagrante delicto were to complain to New York City's Health Department, a club's saunas and steam rooms might be shut down. But only two or three complaints a year are received, said Sid Dinsay, a spokesman for the city's Department of Health and Mental Hygiene.
"If we don't know if something is going on," said Dr. Isaac Weisfuse, a deputy commissioner of the department's Division of Disease Control, "there's nothing we can do about it."
A lot of the sexual activity in gym locker rooms, according to witnesses and health experts, may not be the unprotected anal sex that led officials to disband bathhouses in the 80's — and sex clubs in the 90's — but if it were reported to the Health Department, Dr. Weisfuse said, it still would raise enough concern for the department to investigate.
But most aggrieved members complain only to gym management. Some gyms will shut down their locker room amenities while they investigate a complaint, but eventually they reopen them.
"We have closed the saunas and steam rooms at certain times," said Susan Gerson, a spokeswoman for Town Sports International, which runs New York Sports Clubs.
In response to complaints last year about sexual activity in the men's steam room, sauna, shower and Jacuzzi areas, Reebok Sports Club/NY sent undercover personnel to investigate, a measure it also randomly takes, according to Mr. Zeifman. The club has not discovered sexual behavior in its locker room areas since last summer.
Whether their clients are annoyed or unfazed when sex disrupts a visit to their club, gyms are obligated to crack down on it. For them, sex in locker rooms is no laughing matter. But Mr. Young, the comedian, isn't above joking about the situation. He incorporated sex at the gym into his stand-up routine.
"Oh, yes, these steam rooms are wonderful," his puppet Oglesby boasted in a Manhattan bar a few months ago. "I even hear they have a workout room upstairs."