San Francisco's Top Sushi Restaurants You Need To Visit
1. Akiko's Restaurant & Sushi Bar
With chefs who have worked at some of the country's best sushi meccas (Sushi Ran, Ota, etc.) and details such as Japanese applewood-aged soy sauce, Akiko's takes its sushi very seriously. The menu pleases everyone from the California roll lover to the seasoned omakase hound. Our rec? Tell your server what kind of meal you're in the mood for (all-nigiri or a mixture of hot and cold dishes, for example) and what price you'd like to pay, and just put yourself into the hands of those experienced chefs. The modern Japanese-style decor and extensive and interesting sake selection take it all to the next level.
2. Daigo Sushi
Venture out into the outer avenues for Daigo, a small spot with expertly-prepared nigiri to make the trip well worth it. The relaxed environs are a refreshing change from some of the city's higher-end, hushed atmospheres.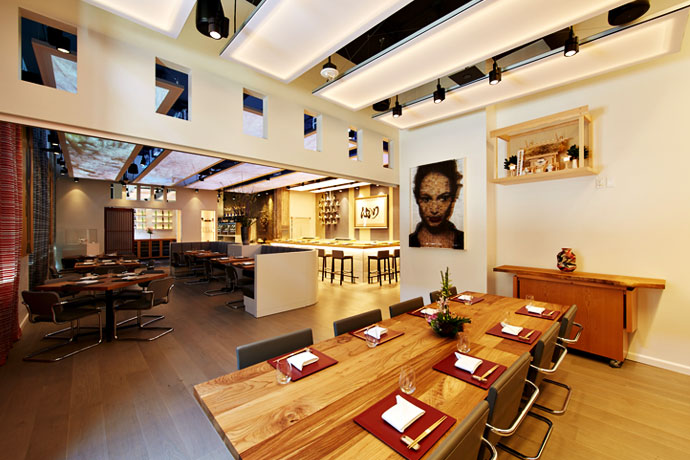 3. Hashiri
Hashiri can be prohibitively expensive ($250 per person to start), but the price is worth the experience. An experience that includes incredibly attentive and informed service, down to details like presenting you with a tray of sake cup selections when you order a bottle. The amount of food is generous, with 12 pieces of sushi on top of the precious, subtle kaiseki menu. Don't be intimidated by the serious sushi chefs — they are very friendly upon interaction. As for the decor, it's as provocative as the food is traditional and service is warm, and that juxtaposition is delightful.
4. Hinata
Pedigreed sushi chefs Gavin Leung (Zushi Puzzle, Saison) and Weida Chen (Sushi Ran, Ijji) have teamed up to open Hinata, a (more) affordable omakase spot on Van Ness. The $78 omakase — inexpensive for SF sushi standards — is available at the 12-seat bar and includes a salad, three pieces of sashimi, 12 pieces of sushi, and tamago or soup, plus dessert. Not only is it a great deal, but it's also on par, quality-wise, with other more expensive places in town.
5. ICHI Sushi
Ichi offers a lovely omakase that incorporates both classic and new sushi offerings from chef/owner Tim Archuleta. Archuleta focuses on sustainability, offering a variety of fresh options that are as sea-friendly as possible. Note that Ichi downsized recently, back into its original, petite space at 3369 Mission St.
• • •